As we went along the Gibb River Road things were going well. I had always had a theory that some of the horror stories, especially from punctures is actually a result of poor planning. I had brand new Yokohama AT's, and I had dropped to 25PSI, so I thought the odds of a puncture were very low. I also drove a lot slower than most, and had two spares. Not to mention the servicing, researching the most reliable parts for the car… this all led me to be a bit smug about what might go wrong. My lack of technical knowledge was a benefit, I had to be very very careful with my planning.
The Gibb River road had some sharp rocks, but was generally in an okay condition. That changed dramatically when we turned North to the Kalumburu road. It was the worst road I have ever driven on. I have never seen anything like it, the corrugations were deeper than my ankle for kilometres. It made things very slow going.
The track to Mitchell Falls was the same but at least this as a 4WD road, as opposed to an "unsealed road". We made it to King Edwards river and the camp site was really nice. Even during peak season there was heaps of space, and the volunteer manager was very nice, and came over to see us. We set up and enjoyed the sunset before heading to Mitchell Falls the next day.
The next day we made it to Mitchell Falls. The first thing we noticed was that the number plate on the front of the car had fallen off. All of sudden I went from "smug Stuart" to "Stuart". I realised that car issues can happen to anyone, all the preparation in the world wasn't going to guarantee me anything. We got there and had a really good talk from an enthusiastic guide. We decided to walk up and get the helicopter back. It wasn't long before another snake 'tried to eat Claire'. This snake was massive, I am guessing a python from its thick body. Unlike the last one, it was terrified of us and fled as quickly as it could. We stopped at a few nice swimming spots. We were told there was some indigenous art, but we were only successful finding one site.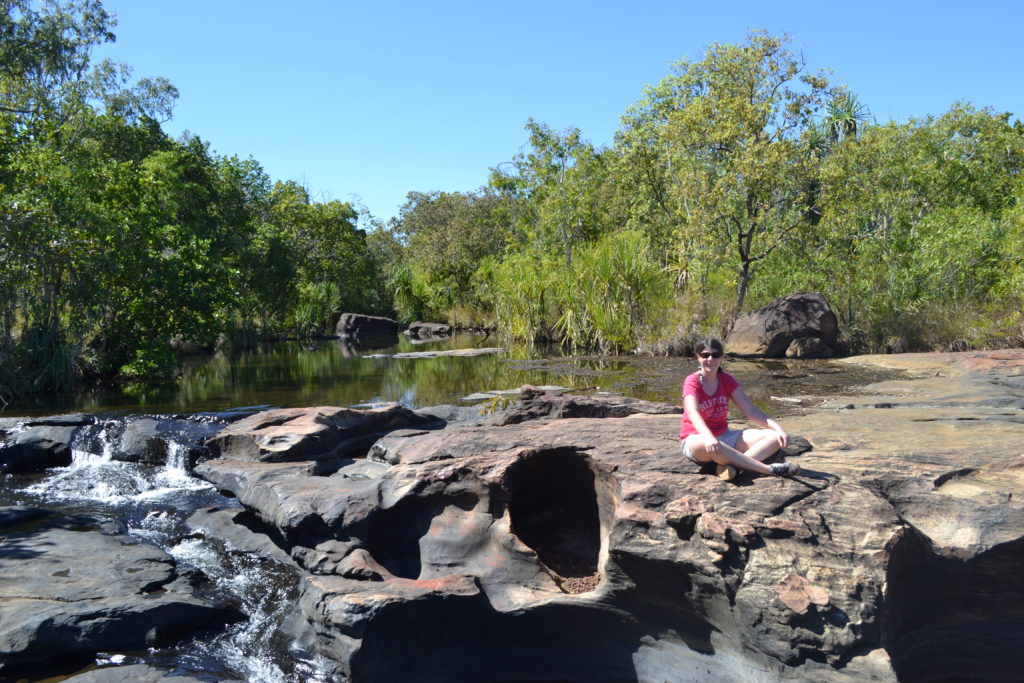 On the way to Mitchell Falls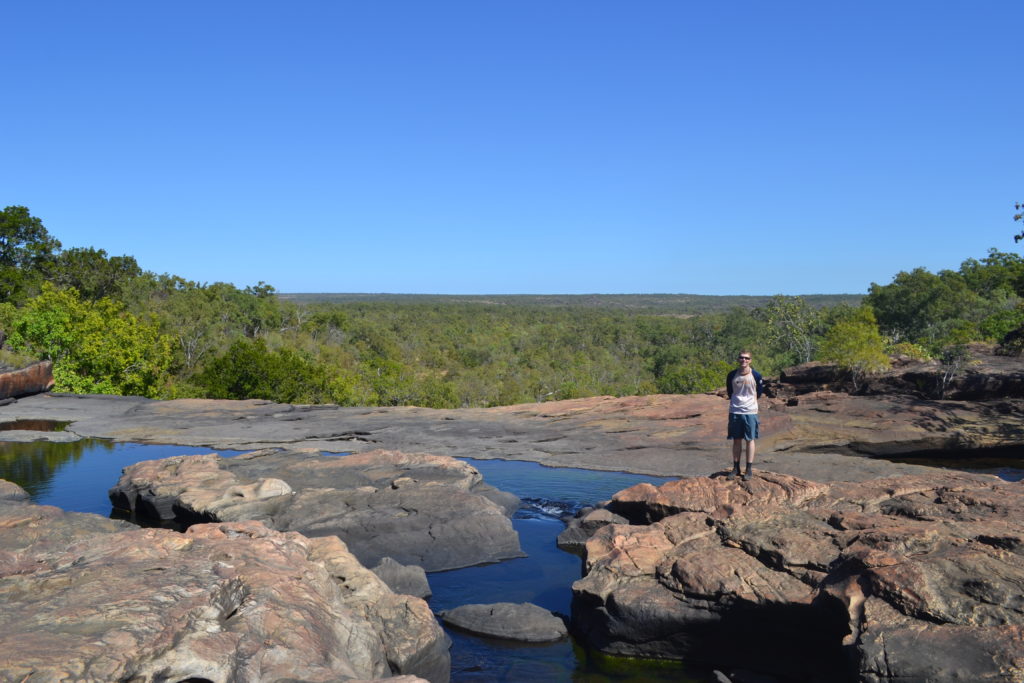 Great view
We skipped past the waterholes, preferring to get to the famous Mitchell Falls. On the way we also went by Mertens Gorge. It was utterly amazing. I would say as good maybe better than Mitchell Falls. It was so enormous, to be right on the top of it was amazing, even a little scary.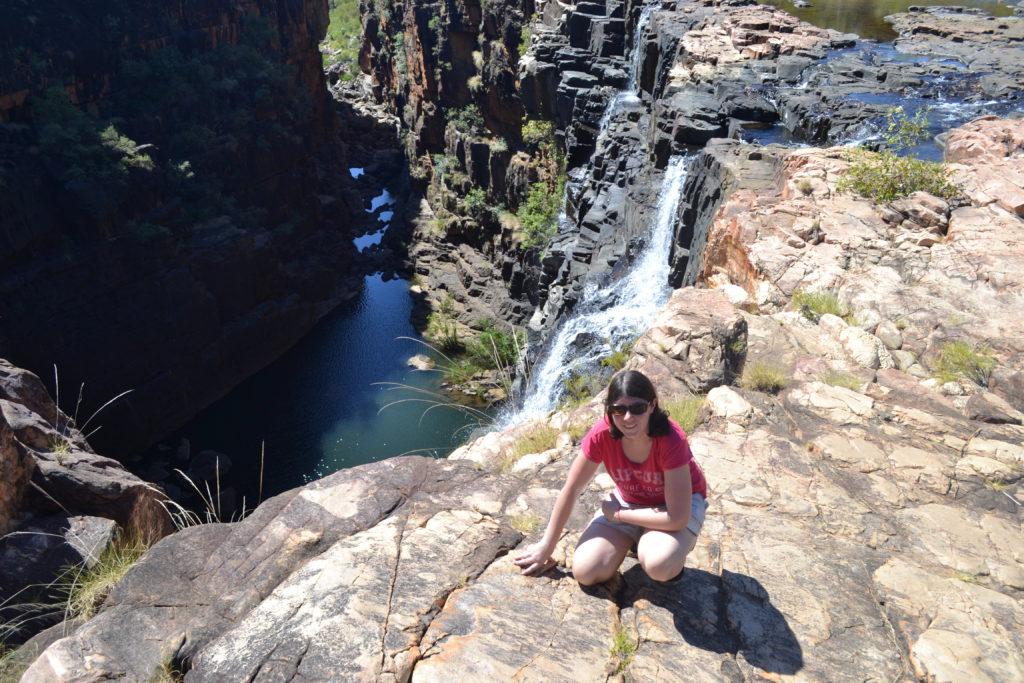 Merten's Gorge, is more massive of a drop than it looks
When we got to the top of Mitchell Falls we were hot and bothered and wanted a swim. But because we had an appointment booked with the helicopter we decided to press on to get 'the money shot' which is all of the waterfalls in a row. It took a while to find it, and Claire wasn't overly happy with all of the walking. Eventually we got there, got the photos, and went back to the areas you could swim. The timing worked out great in the end as we had a bit over an hour there in the water and some lunch before we had to get the helicopter.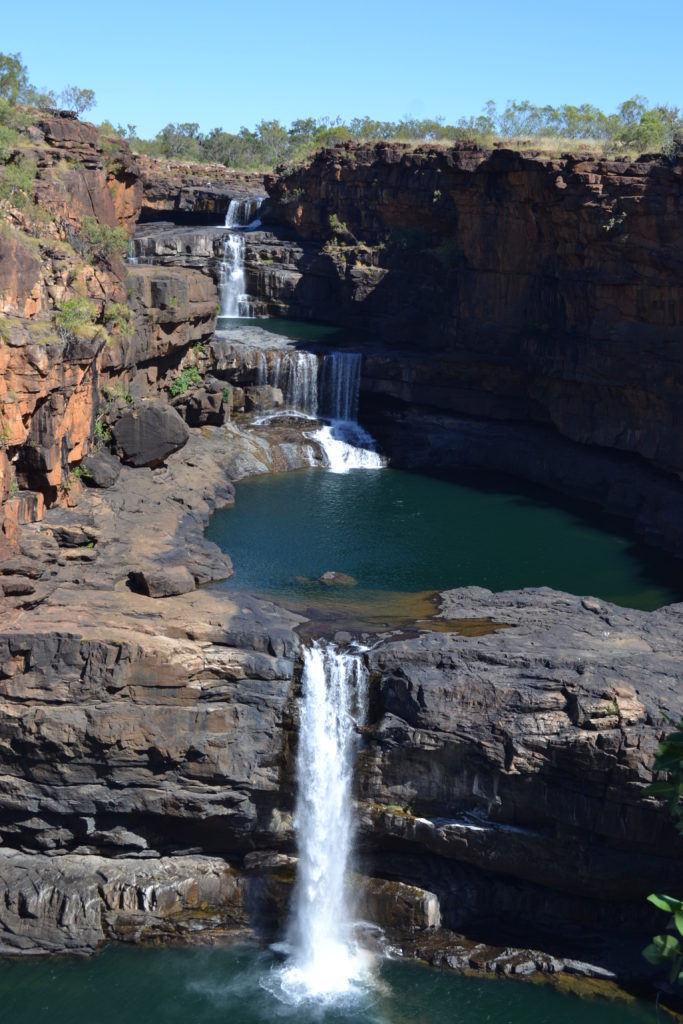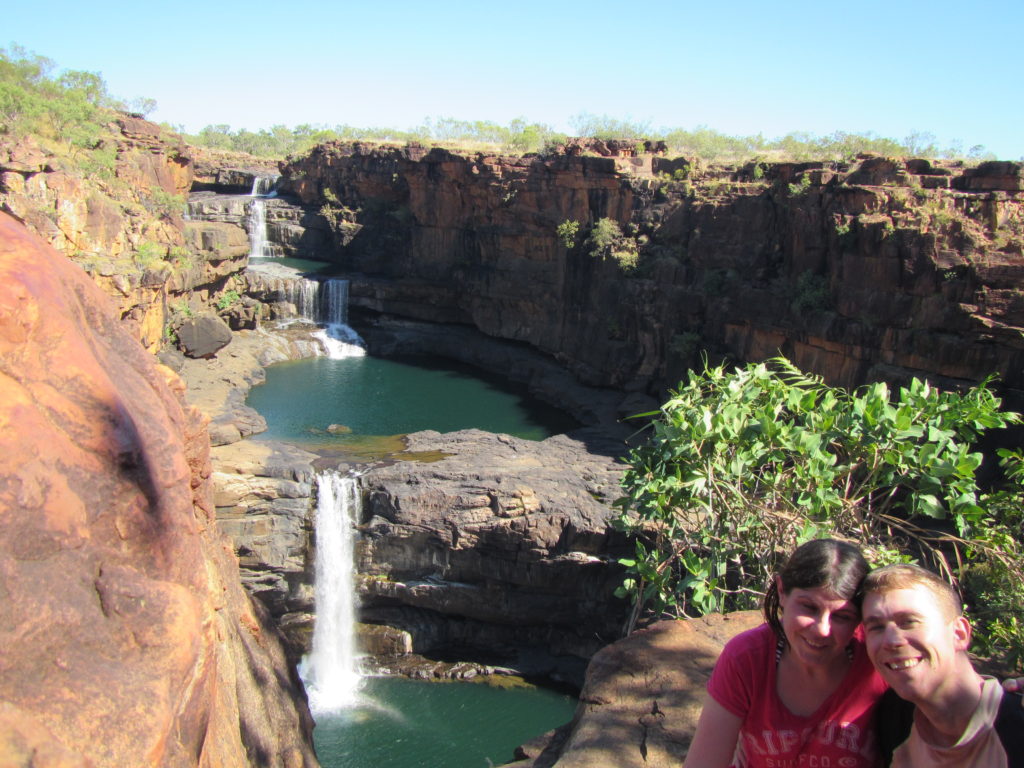 Came a long way for these photos!

I was told that the helicopter didn't have back doors. I thought that meant it had only walls. As it turned out, no, it had nothing. Was a little scary, for me. Claire just thought I was being a giant wimp, she was probably right. Was a great way to see the falls and to get back to the car.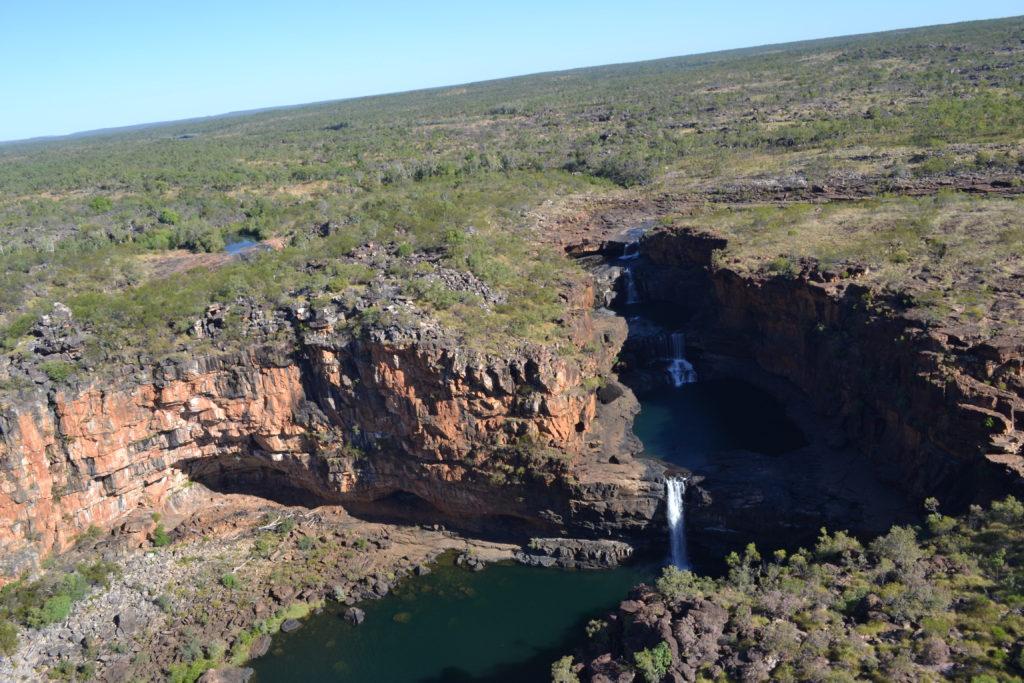 Merten's and Emma side by side.
Once we were on the car we soon came across a fairly new Patrol. It had blown a fan belt and was stuck there. He had sent his mate in a black Hilux onwards, as they had problems with his suspension and would assume he would catch up. After seeing this I went from "Stuart" to "Petrified Stuart". I just knew there was going to be an issue with the car. I didn't know when, but I just knew. I decided to drive the road back to camp very slowly. The 89km took 2 hours 50 on the way there, I went even slower than that. With 25km to go we here a massive boom and suddenly the front right tyre feels wrong, assuming it is a blown tyre I pull over to discover the tyre is fine. Which means it is something else, and I am petrified.
We swapped the tyre over anyway, pull a dead bird from the undercarriage, but Suzi (the car) makes this awful groaning noise when you go over 10km an hour. So we stick to crawl speed for the entire trip back, getting back to camp around 3 hours after dark. It turned out the camp volunteer was really worried about us, and was about to go out looking. That is something that has stuck with me, despite us not being in any real trouble, it was something that I really appreciated, what a champ. At night with a torch I can clearly see oil all over the place, confirming it is a shock.
I have a very limited technical knowledge, sometimes it works to my advantageous as I am extremely safe. Sometimes it really sucks, I went to bed that night not knowing what a blown shock meant… was I going to have to get a tow? Could we get close to Kunanurra? Might we break down on the side of the road? It was really really daunting and the mood was very sombre.